If you actually read and enjoyed Hugo's digression on the Parisian sewer system, the Musée des Égouts de Paris might be for you. Half a kilometer of the sewer system has been opened to visitors as a museum–read exhibits on the history of the Paris sewers, see maps tracing the route Valjean took with Marius, look at old and present-day machinery used to maintain the sewers, all while exploring a real and functional tunnel in the heart of Paris. (Nose plugs optional: the water under your feet is indeed, contrary to what this page used to say, raw sewage. It doesn't usually smell too awful, because Paris is one of a few modern cities where sewage runs through the same pipes as drain runoff. The nasty stuff is considerably diluted.)
Official Website (French), English site.
Location: Opposite 93 Quai d'Orsay on the strip of park between the quay and the river, near the Place de la Resistance
Hours: 11am – 5pm (summer), 11am – 4pm (winter). Closed Thursdays, Fridays, and at the end of January.
Telephone: 01 53 68 27 81
Admission: €4.20 (adult), €3.40 (students, children, groups, military)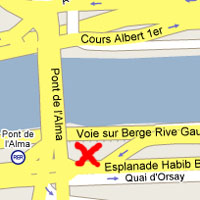 Gallery: